Are you ready for the Madness?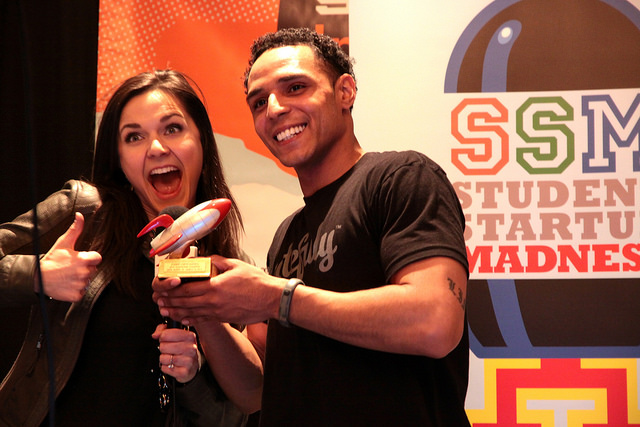 Student Startup Madness (SSM) is a nationwide tournament-style competition for college student digital media startups, culminating with the "Entrepreneurial Eight" national finals at 
South By Southwest (SXSW) Interactive
 on Monday, March 16th.
NEWS UPDATE:
Student Startup Madness tournament launches new campus-vs-campus competition with SEARCH@ to highlight university entrepreneurship
This year's SSM Entrepreneurial Eight Finals features teams from Bucknell University, Cornell University, Georgia State University, Michigan State University, Washington University in St. Louis, University of Chicago, University of Michigan and University of Washington in Tacoma. (Read all about them) The finals will be held on March 16th at SXSW in Austin, TX in the Hilton Austin Downtown, Salon B from 3:30-6 p.m. (Links to event, held in two SXSW sessions: Part One and Part Two.)
Last year's winning team, Notefuly (from Seton Hall University), accepted the Rocket Trophy as the top college startup in the country in front of a packed house of students, investors, entrepreneurs, technologists and fans.
…
Student Startup Madness Entrepreneurial Eight Finals & Championship
will be held on Monday, March 16th at SXSW

[SEE PDF OF 2013-14 SSM Finals Event Program]