College startup that "3D models the world" wins at SXSW; runners up include "augmented taste" technology and system for better senior staffing 
Brown University startup is named Student Startup Madness National Champion, uses machine learning to automatically create 3D models of the world; while teams from University of California, Irving, and Michigan State University take second and third place, respectively.
Austin, TX – A talented group of college student entrepreneurs – the Entrepreneurial Eight – spent their spring break getting their startups ready to pitch on stage in front of a panel of investors, entrepreneurs, technologists, and attendees at SXSW Interactive this past week in Austin, TX.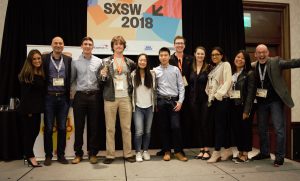 A startup that uses algorithms, data, and machine learning to create 3D models of cities, Geopipe, was named National Champion in the Student Startup Madness (SSM) 2017-18 National Championship Finals, held at the SXSW Interactive conference in Austin, Texas. There, eight top teams of students—The Entrepreneurial Eight—from universities across the country pitched their ventures to a world-class judging panel that included investors and technologists from Mark Cuban Companies, Google, Dorm Room Fund, and Make in LA.
Geopipe is a startup company co-founded by Thomas Dickerson, a fifth-year PhD student at Brown University, and Christopher Mitchell, PhD, an adjunct professor and graduate of New York University. Geopipe automatically reconstructs immersive 3D models of the real world, enabling simulation creators, game designers, architects, and many others immediately put the real world into virtual space for renderings, virtual experiences, physical simulation, and analysis. Geopipe use algorithmic techniques including machine learning to understand what's in the world. Geopipe was also a member of Techstars NYC 2017.
In second place was Sweetbud, a hardware/software startup co-founded by Sara Du, a second-year undergraduate student at University of California, Irvine, and Simon Guo. Sweetbud is a coffee cup lid that uses electrical stimulation to simulate the taste of sweetness, thus replacing the sugar in coffee and reducing daily sugar intake. Sweetbud's innovative product can be applied to other beverages and the founders hope to revolutionize the augmented reality industry through taste.
In third place was Smart Staffing, founded by Bailey Paxton from Michigan State University. The company has designed an easy to use, map-based software for private duty home health care companies that makes scheduling more efficient and optimizes the match between caregiver and client.
Prizes
Each of the top three teams received subscriptions to Foundersuite and gift cards to JackThreads and GoPuff (with a total value to each team of approximately $2,500). They will also will be receiving one-on-one pitch meetings with Lerer Hippeau Ventures and McCune Capital. The first place winner will recieve a trip to Launch Tennessee's 36|86 Entrepreneurship Festival in Nashville in August. All Student Startup Madness teams will be given access to the StageXchange platform, where investors can access the startup companies' information.
Judges
Members of the judging panel for SSM's "Entrepreneurial Eight" Finals, held in the Hilton Hotel in downtown Austin on Monday, March 12, were:

They were joined by emcee and tie-breaking judge, Jen Kay, entrepreneur-in-residence and Director of Branding and Partnerships at Launch Tennessee.
About the Entrepreneurial Eight Finalists
Codemoji has helped 160,000+ grade-school students get started in learning to code. [Contact Livio Bolzon, livio@codemoji.com, or visit codemoji.com.]
GAIA produces innovative solutions to athletic and therapeutic problems through the use of smart apparel technology. [Contact Brent Chase, gaia.smartmove@gmail.com, or visit facebook.com/gaia.wearables.]
Geopipe uses machine learning to automatically generate virtual models of the real world for architects, real estate developers, game developers, and beyond. [Contact Thomas Dickerson, thomas@geopi.pe, or visit geopi.pe.]
Impowerus connects juvenile immigrants in need of legal aid with attorneys performing pro bono immigration work; through Impowerus, juveniles can speak with attorneys working remotely and attorneys at firms can utilize the Impowerus dashboard to track hours, conversations, and goals. [Contact Katelyn Ringrose, kringros@nd.edu, or visit Impowerus.com.]
Librarian AI has produced a knowledge management AI chatbot that helps companies train talent and retain knowledge. [Contact Holden Gibbons, holden@librarian.ai, or visit librarian.ai.]
Ravle is a travel company that allows travel filmmakers to turn their videos into bookable travel experiences. [Contact Tay Lotte, tay@ravle.com, or visit ravle.com.]
Smart Staffing is a map-based software that makes staffing for private duty home care companies simpler, saving owners $45,000-$90,000 a year in direct overhead while maximizing revenue, minimizing scheduling errors, and improving caregiver retention and customer satisfaction. [Contact Bailey Paxton, baileypaxton@gmail.com, or visit smartstaffing.co.]
Sweetbud is an "augmented taste" coffee cup lid that simulates the taste of sweetness; with Sweetbud, users can taste sweetness without adding any sugar to their coffee. [Contact Sara Du, hello@sensetrick.com, or visit sweetbud.co.]

About Student Startup Madness
Student Startup Madness debuted in 2012 at SXSW Interactive with a launch event and kick-off pitchfest, where five student startup teams representing eight colleges and universities pitched their ventures and won prizes. Today it is a national tournament in one of the main venues of SXSW. For more on Student Startup Madness, visit the website (https://studentstartupmadness.com), see us on Facebook, or follow us on Twitter: @StartupMad.
The Student Startup Madness concept was developed by Sean Branagan, director of the Center for Digital Media Entrepreneurship at the S.I. Newhouse School of Public Communications at Syracuse University, in conjunction with SXSW. Student Startup Madness believes in American entrepreneurship and on-campus startups—and wants to help young student entrepreneurs succeed and become a part of the SXSW experience.
The 2017-18 SSM tournament has been promoted and supported by 13 anchor universities in eight regions across the country: Arizona State University (Southwest), Cornell University (Northeast), Bucknell University (Mid-Atlantic), Georgia State University (Southeast), Michigan State University (Great Lakes), St. Louis University (Midwest), Seton Hall University (Northeast), University of Florida (Southeast), University of Illinois at Urbana-Champaign (Midwest), University of Maryland (Mid-Atlantic), University of Southern California (West), University of Washington at Tacoma (Northwest) and Xavier University (Great Lakes).
SSM also partners with LaunchTN, an organization supporting entrepreneurs in the state of Tennessee, and StageXchange, an institutional deal management and marketing platform. SSM cross-promotes the tournament with Women 2.0, the leading media brand for the next generation of technology leaders, and Student Veterans of America, a coalition of student-veteran groups on more than 1,300 college campuses across the globe. All these organizations believe in the power of American entrepreneurship and innovation on our college campuses.